An island in the current
2023-02-09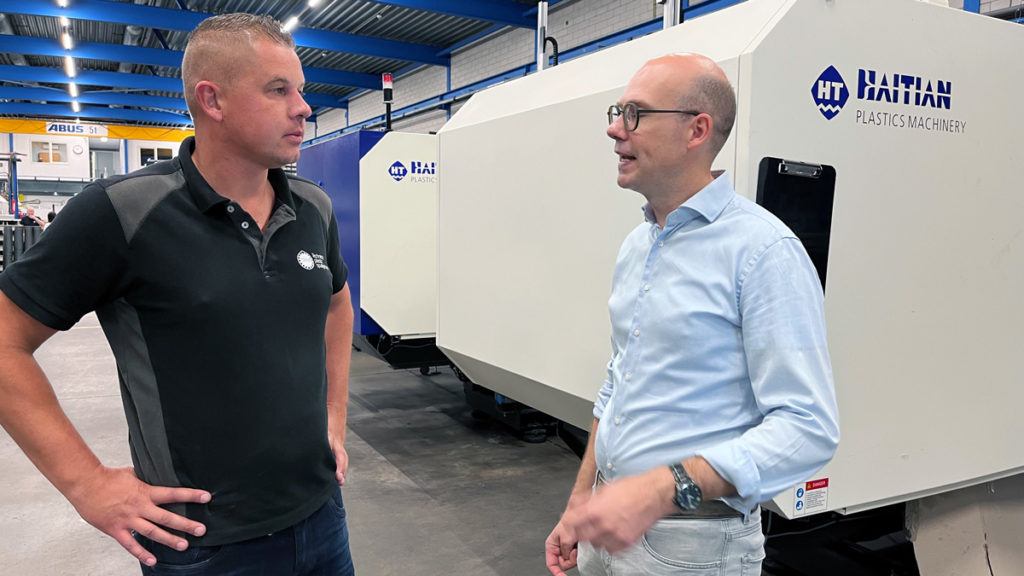 How the Dutch plastic injection molding company Smit Plastic BV has been swimming against the tide for many years and why it is still successful.
In business, it's like real life: Between the turbines of the industries, the vast majority of businesses quietly turns their wheels. Inconspicuously and without any special features worth mentioning. At least it seems so. If you take a closer look behind the scenes, you will discover friendly people with heart and mind – and with the clear intention of reconciling profitability, sustainability and, above all, humanity. With a strong commitment and will to shape things in the interest of future generations. Smit Plastic BV in Tiel, the Netherlands, is such a company, a prime example in many respects.
The strategic location to the south of Utrecht, directly between the freeway junction and the canal port, gives an initial indication of what is important to the owner family: flexibility, independence, pragmatism. At first glance, the company headquarters itself suggests a "classic contract injection molder," and indeed several million plastic parts have already been manufactured here. A huge "belly-shop" of more than 1,700 plastic products of the most diverse kinds. Technical parts, packaging, articles for the consumer goods sector – including the company's own products and new ones still in development.
We are standing in the production hall with Mark de Krieger, he is the technical manager at Smit Plastic and also manages sales. His brother Marcel de Krieger is responsible for the commercial area. Both have taken over the family business from their father. But of course Gerard de Krieger, although officially retired, still assists his boys as a senior consultant. A man with his experience can still provide important impetus. And they all benefit from this, after all, new tasks, including challenges, are always being added. The machine park is correspondingly broad: 36 injection molding machines fill the room, with clamping forces ranging from 250 to 13,000 kN. The large Haitian machines immediately catch our eye – twelve in number, automated with robotics from Sepro.
As a matter of principle, they pursue a two-brand strategy, says De Krieger, if only to avoid being dependent on one supplier. The first Haitian arrived in 2006. "We had obtained a Haitian HTF, directly from China, on our own," De Krieger smiles. "CE certification and robot adaptation were done at home in the Netherlands. We were able to do the service ourselves because the machine was quite simply built. But apart from that, the machine has run for 15 years without any major problems. We have invested just 1 valve and about 400 euros in labor in all these years. And the machine has been producing in 24/7 mode since 2010. New oil once a year – and that's it."
In 2-shift operation, they process all materials across the board, except PVC. Instead, they focus strongly on the area of bioplastics and develop packaging solutions for food & beverage in street vending (takeaway and to-go area).
Social responsibility on a broad basis
Currently, Smit Plastic BV employs about 90 people, almost half of them with handicap and no full-time employees. A fully-fledged inclusion company. The atmosphere is family-like, everyone gives their best. They've been doing this since 2007, says De Krieger, "out of free will, out of conviction." They do not receive any financial support from the state for this. Nevertheless, the decision in favor of inclusion means a considerable amount of extra work, because these employees need additional support and assistance due to their disabilities. In Tiel, they are gladly given it, because "everyone has the right to develop their talents."
We come to the current economic situation and the worrying price developments for gas and oil, for energy par excellence. While Haitian was chosen for its cost advantages and efficient consumption rates, electric machines have not been an issue. "We haven't needed electrical performance so far. However, given the energy prices, we are in discussion with Mark Waterreus." (Managing Director of Haitian Representation Netherlands). After all, contract moulders usually line up broadly, he says. If one industry gets into a slump, others can make up the dent. "But in times of energy crisis, it just hits everyone." And then we're on the subject of environmental policy, one of the central themes at Smit Plastic, "an integral part of the company's policy." Not as mere theory, but rather as lived practice – quite pragmatically. Without chemical cleaning agents. With waste reduction wherever possible. And of course, energy efficiency continues to be a big issue for them, "so energy-saving technologies are essential."
When asked where he sees the company in five years, De Krieger says, "A year ago, I would have said we wanted to double it. But because of the crisis mood, I've become cautious." He looks thoughtful for a moment, but then adds, "We bought another building next door that we want to fill."
Read more: www.smitplastic.nl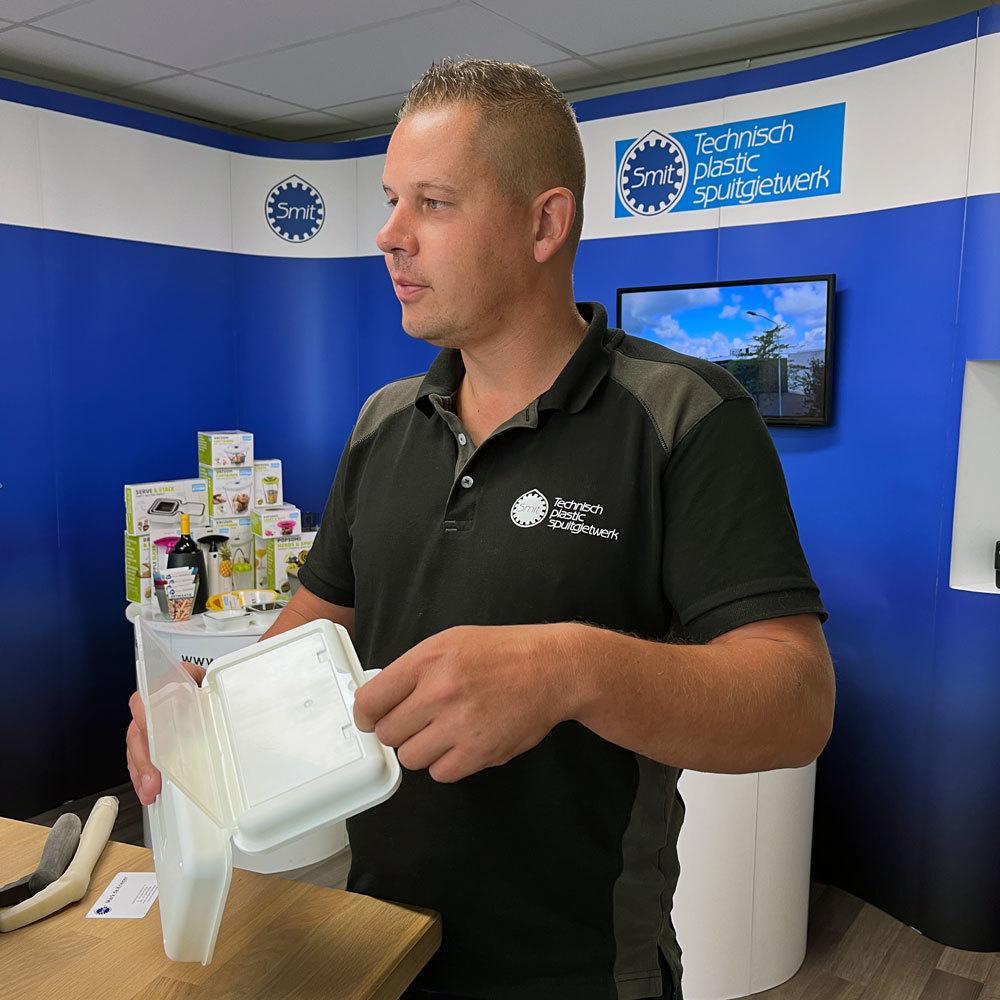 Household products like these storage boxes are part of Smit Plastic's crisis-proof core business.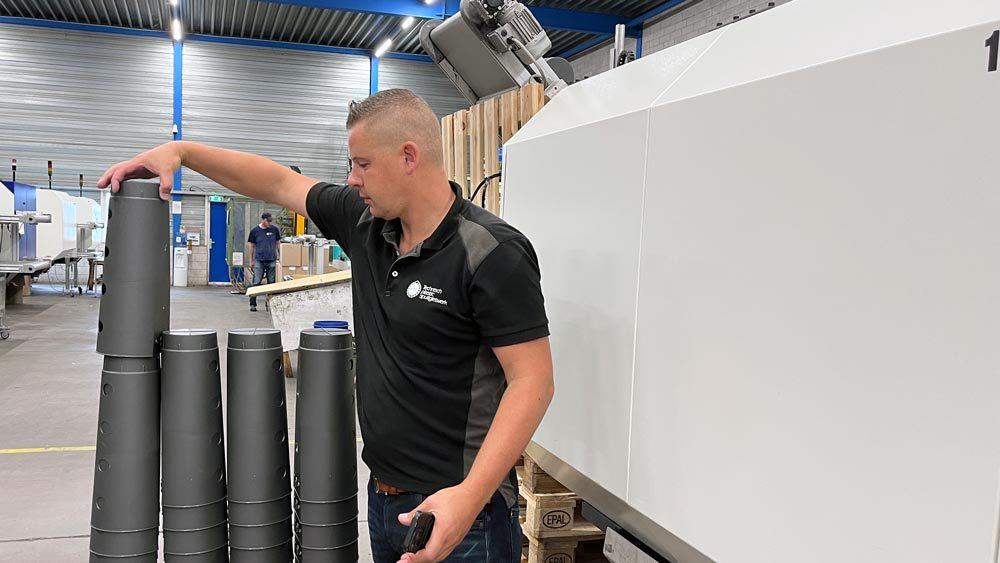 One of the own products is a stackable flower pot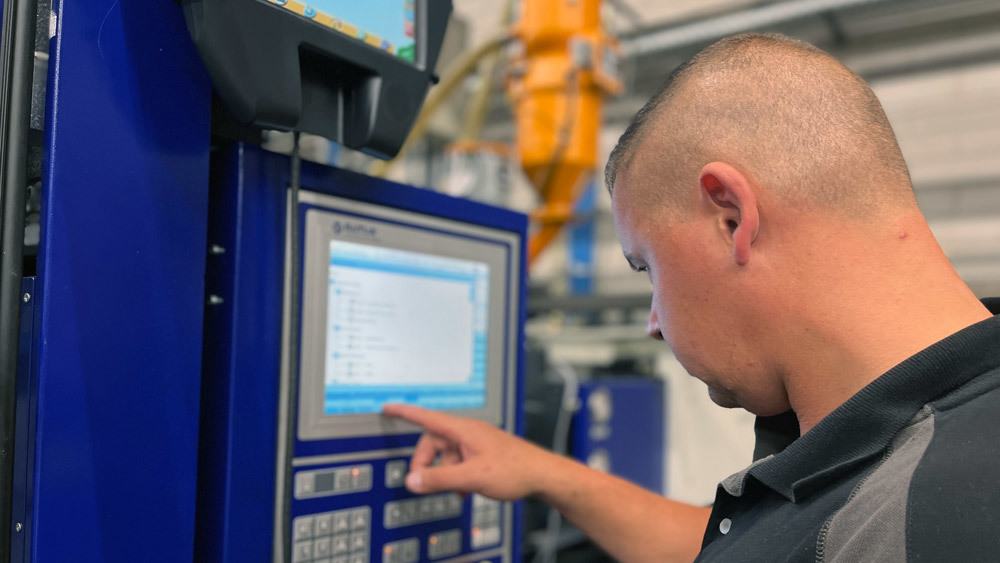 Ease of operation plays an important role in the purchase decision, along with the attractive price/performance ratio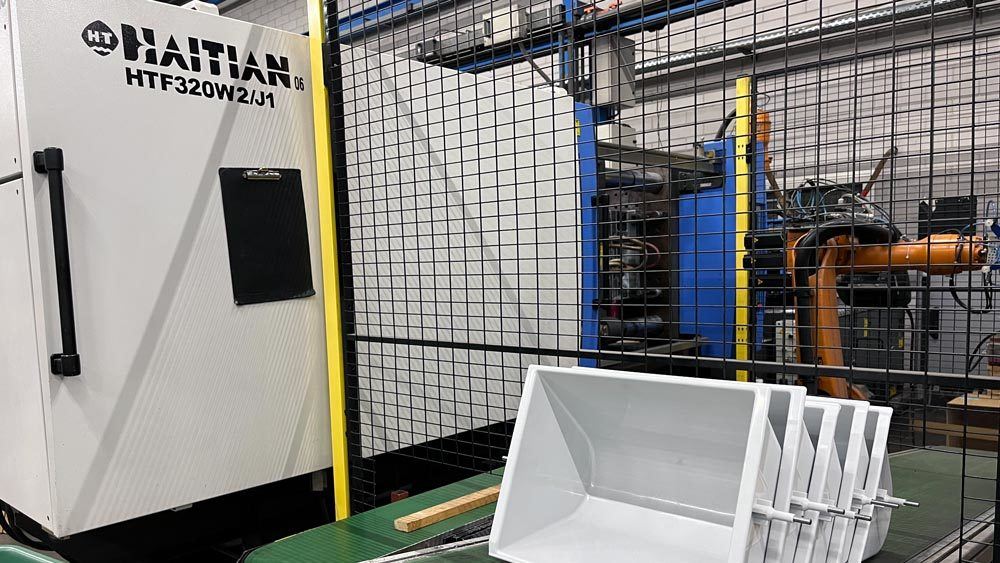 Since 2006, a Haitian machine of the HTF Series has been producing without significant problems