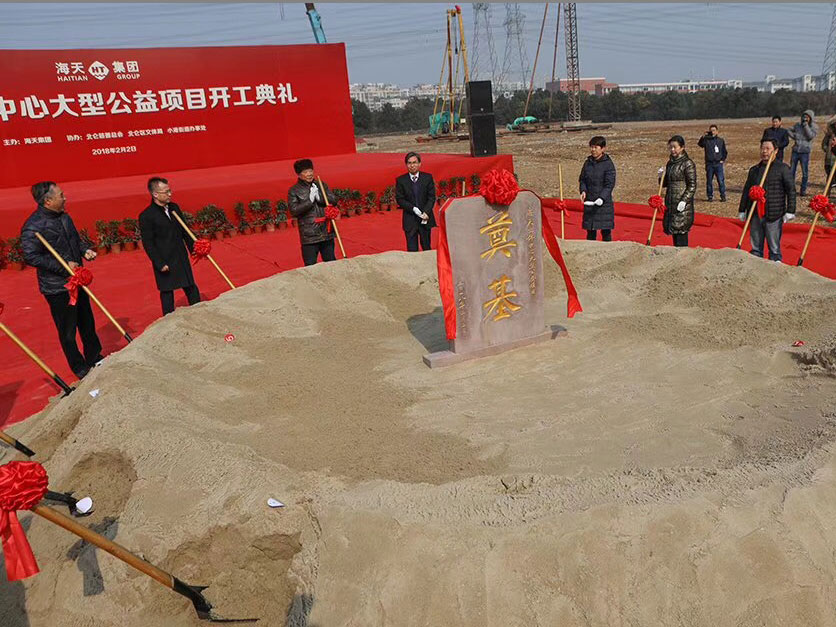 The commencement ceremony of Beilun District's large commonweal project – Haitian Cultural & Sports Center which is located at Changshan Community, Xiaogang Street, Beilun District, was held on the morning of February 2, 2018. All the middle-level cadres and above of the company attend the ceremony.
Haitian Cultural & Sports Center covers an area of 46,666.67 m2 and a total floor area of 29,000 m2. The total investment of the project is 360 million yuan and the construction cycle will be 2 years. It is estimated to be put into use in 2020.
The project is to build a cultural and sports center that integrates body building, recreation and entertainment, hobby training and cultural publicity. There will be a football field, a tennis court, and a basketball court for sports and fitness, training rooms for interests and hobbies like yoga, calligraphy, dancing and painting, landscape sidewalk, a leisure and recreational plaza, a small performance hall and a movie theater, all of which will greatly satisfy the cultural and sports demands of Haitian employees and the surrounding people.
Leader of Beilun District expressed in the speech that the construction of Haitian Cultural & Sports Center undertakes several missions like improving Beilun's public cultural service system, satisfying the people's growing spiritual and cultural needs and improving the city's grade, which will benefit the people and the society.
The launching of the cultural and sports center project dates from the 50th anniversary of Haitian held on December 27, 2016. At the celebration, Haitian donated 50 million yuan and led 139 suppliers from all over the world to donate over 8 million yuan to the public welfare, which is to work together in Beilun's livelihood projects and thus launches the project Haitian Cultural & Sports Center.
Mr. Zhang Jingzhang, President of Haitian Group, said in his speech, "I believe, with strong support and assistance of governments of all levels and relevant departments, with hard work and unremitting efforts of all the constructors, Haitian Cultural & Sports Center will definitely boost the urban construction of Beilun District and make great contributions of the development of Beilun's charity, culture and sports work.
Over the past years, the company has been engaged in the course of the public good to give back to society while making itself larger and stronger. Haitian has donated over 200 million yuan to the society accumulatively and carried out a series of financial aid, elderly caring, medical assistance, disaster relief, environmental protection and other public welfare projects all over China. At this time, Haitian does good once again and pours enormous energy into building Haitian Cultural & Sports Center to benefit the people around, which, again, shows Haitian staff's cultural concept of "life-loving and health-advocating" and innocent heart of "contributing to public good and benefiting the native place".