July 7th, 2018, Haitian Huayuan Machinery Middle East Co., Ltd. (or "Haitian Turkey") opened its new plant at Velimese Corlu, Turkey. Mr. Yavus Eroglu, Chairman of Turkey Plastics Association, Top Management from Haitian International and nearly 200 customers, partners and employees of Haitian Turkey attended the celebration of the opening.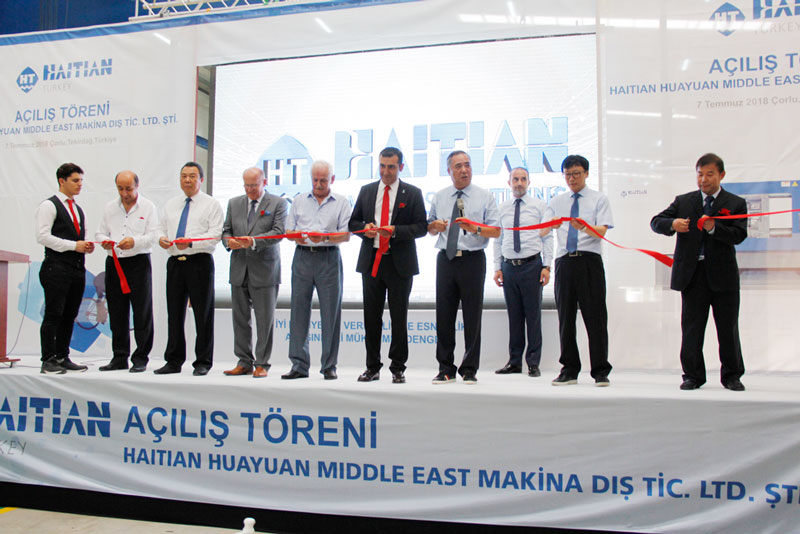 (From left to right): Mr. Tuncay Yildirim, Sales Manager of Haitian Turkey; Mr. Zhang Jianfeng, Executive Director and Senior Vice President of Haitian International; Prof. Helmar Franz, Non-Executive Director of Haitian International; Mr. Durson Irak, Chairman of IRAK PLASTIK; Mr. Yavuz Eroglu, Chairman of Turkey Plastics Association; Mr. Zhang Jianming, Executive Director and CEO of Haitian International; Mr. Chen Weiqun, Executive Director of Haitian International; Mr. Shi Weizhong, General Manager of Haitian Turkey
A new platform to be more active
Haitian Turkey Corlu Plant started its construction since July 2017. After completion, the new plant has an area of 5,000 sqm, with another 850 sqm for office area. The new plant is mainly used for machine and spare parts stock, with additional functions, as a comprehensive application center. It will be able to provide more flexible and diversified sales and service support to the local customers, including display of new products, mold testing, customizing, technical training, after- sales service, etc.
Mr. Shi Weizhong, General Manager of Haitian Turkey said, "the new plant provides us with a new platform, from which we can provide more active support to our customers in terms of sales and service. We plan to store around 150-200 machines in our factories in Turkey and therefore will be able for immediate delivery to the Turkish market in the machine range below 1,000 ton, to create the biggest competitive advantage for local customers. In addition to the new factory, the current headquarter of Haitian Turkey, which is located in Istanbul, will continue to be operational for the sales and service support of local customers. "
Turkey is always an important export market for Haitian International, and as an integral step of its "global footprint". Haitian entered the Turkish market as early as 1996 and started its operation  there in 2001. In the past two decades, Haitian has been actively exploring the local market and has successfully maintained its leading position in terms of the market share. Up to now, Haitian International has nearly 2,000 customers and has delivered more than 10,000 machines in Turkey, and has gained wide recognition from the local customers.
Mr. Yavuz Eroglu, Chairman of Turkey Plastics Association mentioned in his address during the opening that, "Turkey is the 2nd largest market for plastics processing in Europe. We have been paying great attention to the development of the plastics industry and we warmly welcome and highly appreciate Haitian's continuous efforts and investment into the Turkish market."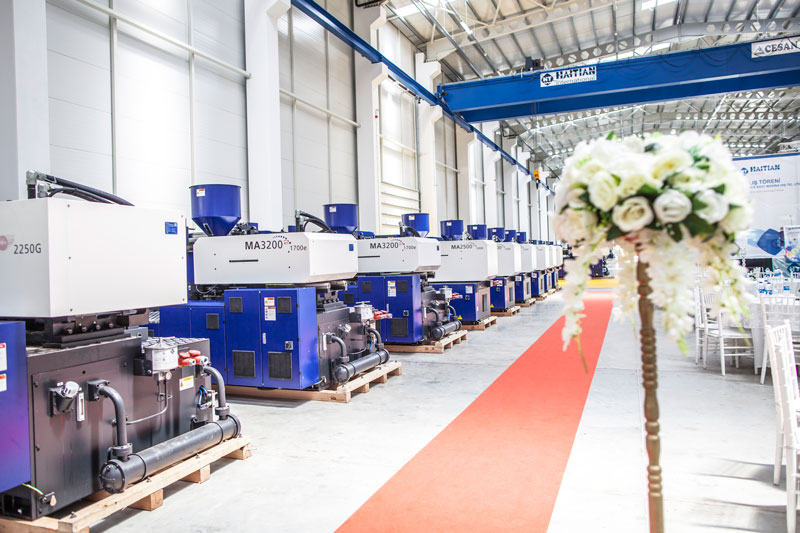 In order to support the development of the local plastics industry, Mr. Zhang Jianming, Executive Director and CEO of Haitian International donated a Haitian machine to a vocational school of Plastics Machinery affiliated with Turkey Plastics Association for teaching, research and training. Mr. Zhang Jianming said that "Haitian will continue to create value for customers with better products and more convenient service through technical innovation, service innovation and management innovation. We will also make efforts to improve Turkey's plastics industry!"