TK Systems GmbH – SAVING ENERGY WITH TWO SENSES
2017-05-21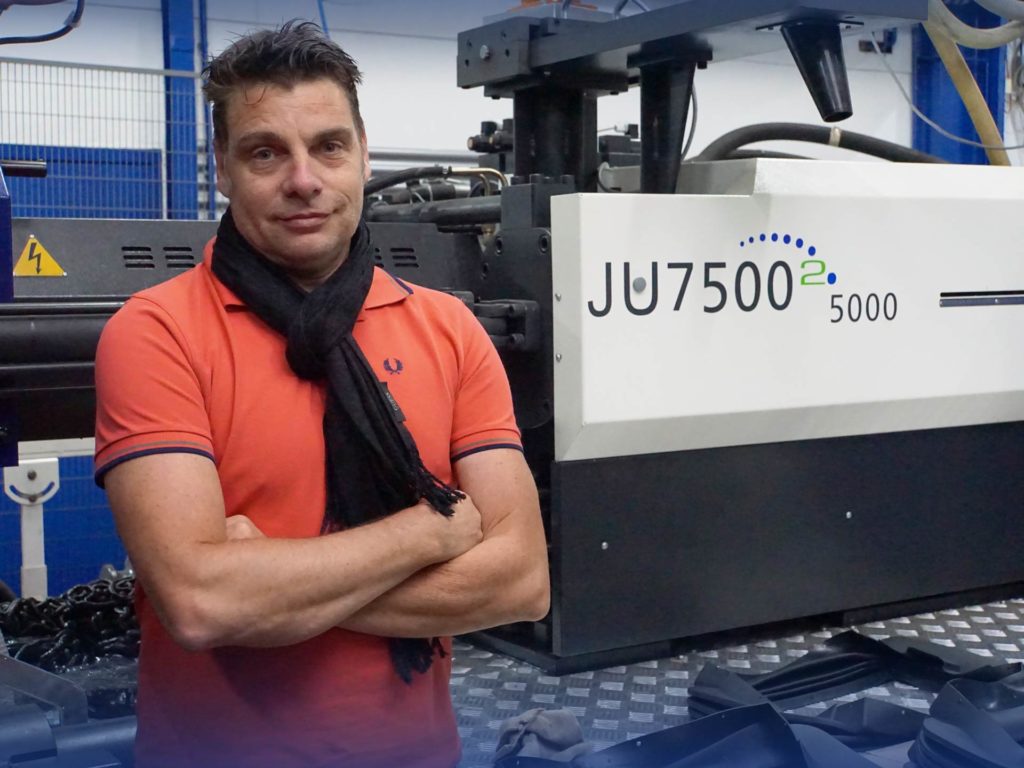 Haitian Jupiter II Series: SAVING ENERGY WITH TWO SENSES
Since its founding in 1988, TK Systems GmbH has established itself as a supplier of technical plastic parts.
The middle-market company manufactures high-quality injection molding products of all kinds in the small to medium-sized parts sector. The machine fleet includes two Haitian Mars II and three Haitian Jupiter II two-platen technology machines. Customers in the electrical, furniture, automobile, construction, and swimming pool industries are among those supplied. We visited the company in Vlotho in North Rhine Westphalia and spoke with Swen Sinn, Business Manager of TK Systems.
Mr. Sinn, TK Systems is part of what is probably the strongest cluster of processing companies in Germany. What is your biggest trump card?
"Very clearly it is flexibility – and I mean that in all ways. We produce parts starting from pilot production right through to large quantities. We manufacture and deliver prototypes on very short notice. In our operation everything is available, from development over mold construction and manufacture, through to QS and delivery. The structure of our areas of expertise is closely interconnected. This is what gives us our internal flexibility and this is what makes us strong."
In what segments are you chiefly active?
"We have the good fortune of being set up very flexibly in this regard also. We are 20% injection molders by contract and 80% a kind of outsourced plastics manufacturer for those of our customers who do not have an injection molding facility of their own. And of course we also work for the automobile industry, producing bumper parts, trim, and ventilation grilles, and other small parts for interiors. In this respect we are a traditional OEM."
Then you are the famous "extended workbench"…
"Yes, for example for a customer in Bad Salzuflen who manufactures flat roof drains; we welded these with bitumen to then deliver the complete packaging unit. TK Systems is involved right from the start – development of the parts, mold construction, the injection-molding process, quality assurance, and the accessories. In my opinion, this service goes beyond that of a traditional contract injection molding company. And here we also want to demonstrate where we clearly stand out from the rest. Soon we'll be able to offer downstream processing and assembly in our new assembly shop, which we are currently building. This comprises another 700 m² for warehousing and assembly to add to the existing 1200 m². So I think that we have a pretty powerful set-up".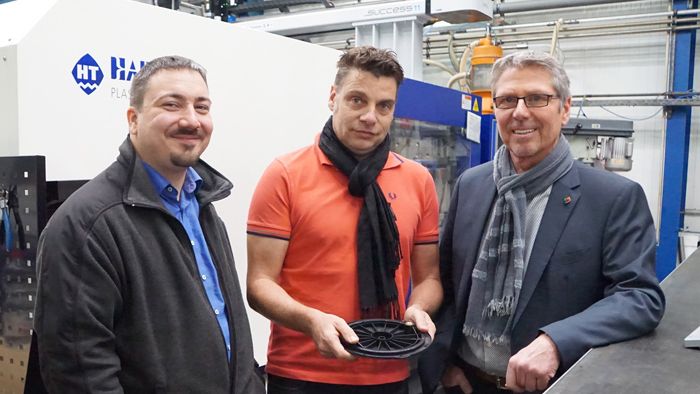 You manage the company together with your brother. Are family ties an advantage in the business world?
"Yes, it was a matter of course and one of our best decisions. I trained to be a process mechanic for plastic and rubber and took over the injection-molding factory of one of our suppliers in 1994. At that time my brother had also been working at a processor's as industrial manager. Two years later I brought him over. We know and trust each other on a completely different level. And that makes double sense [the brothers' last name, Sinn, means 'sense' in German], in the truest sense of the word!
What do you do differently or better, even, than other processors? 
"Actually, not a whole lot. We do our job with the requisite seriousness and with the greatest ease possible."
With such tough competition, can you really allow yourselves to have a relaxed attitude? How can we picture that?
"This is probably one of our greatest strengths. For example, we handle price negotiations with our partners basically according to the motto "live and let live". We rely on long-term and trusting partnerships, an honest sense of being in it together. This includes the bank, the tax consultant, the lawyer and of course also the machine suppliers. When we are delighted with the service and we get good support, we remain loyal and faithful. This is also perhaps the reason why we have now bought five machines from Haitian International within one year."
Two-platen machines of the Jupiter Series… 
"Yes, exactly. We began with a Jupiter II and a six-digit investment sum. Many might say that a certain amount of courage was needed for that, particularly since prior to August 2015 I hadn't seen anything by Haitian. I discovered that the old story about "low-cost" Haitian International is just not true. Still, on average the company does produce ten times more machines than manufacturers here. We simply gave it a try and were 100% satisfied with the machine; another four followed in short order. Apart from a few teething troubles – which everybody has, by the way – they're purring like kittens. And just as quietly as well. Factor in the energy costs. The measurement data supplied by Mr. Tiedemann have all been confirmed. Overall we have been able to register savings of around 40 per cent. That's quite an amount!"
How do you get your customers?
"Our sales concept is "word-of-mouth propaganda". We are rather well-known for a company of our size and we seem to enjoy a good reputation. But we also know our limits. And here too we are very honest when the quality demands are too high or if the price simply doesn't match. Another rather crucial point is whether the famous 'chemistry' is right."
With such strong competition, isn't it extremely difficult to achieve good positioning? 
"The competition in our company size range is actually not so great. 30 to 40 % of them immediately drop out because although they have certificates on their walls they don't live up to them. We have been ISO 9001 certified since 2004 and we adhere to this strictly in our processes, including in EDP. This includes for example defined test cycles with extensive documentation and sample retention. We then offer traceability and measurements if the customer wishes. I may be so bold as to say that you'll find very few companies of the same size who are equally as well equipped as we are. We have not allowed ourselves to become restricted by our certification in terms of our flexibility but instead have adapted the certification to our company, incorporating all work steps into this certification. So this means that we didn't have to make any substantial changes at all; instead, we were able to keep on working the same way and it was all documented".
What goals do you have for TK Systems!?
"Our goal is to make our company into a little jewelry box – next with 10 to 12 machines. After two big crises in 2004 and 2009, it's been difficult up to now because that put a big damper on us too. The recovery since 2011 finally gave us – slowly but steadily – a breathing space. Since that time all our revenue has been immediately invested. This has proven so effective that we are even undertaking new construction. We have our own mold construction facility that does its own maintenance and prepares molds for production. Maintenance records are improved, mold stocks are more structured – simply more space, more cleanliness, and more order."
Are you pursuing any particular entrepreneurial vision?
"It's important that we stay flexible. We want to position ourselves as cost-attractive, reliable, and innovative with an aspiration for state-of-the-art production. We have just received from the company Plasma a new drying unit with a dew point meter. A new compressor is also planned for the start of 2018. Plus we have all of our state-of-the-art peripherals around the whole machine fleet. This is what I mean by a jewelry box – small, fine, and completely sound"
Did you already previously have contacts or communications with China?
"Yes, for as many as ten or twelve years. Due to molds, parts, designs, everything you can think of. Also during vacations."
Do you have any prejudices at all against Chinese machines?
"No, none whatsoever."
Why in your opinion are there so many reservations in your group of colleagues?
"That I don't know. Funnily enough, after seeing the machines at our place, they all ordered such machines too."
Two weeks after our conversation in Vlotho you visited Haitian International Germany in Ebermannsdorf. Your impression?
"That was a very spontaneous decision and was my first visit to Ebermannsdorf. Greatly impressed; I wouldn't have expected a set-up on such a scale. This confirms for me once again that my gut feeling at that time was correct."