The Sound of the Future
2022-12-16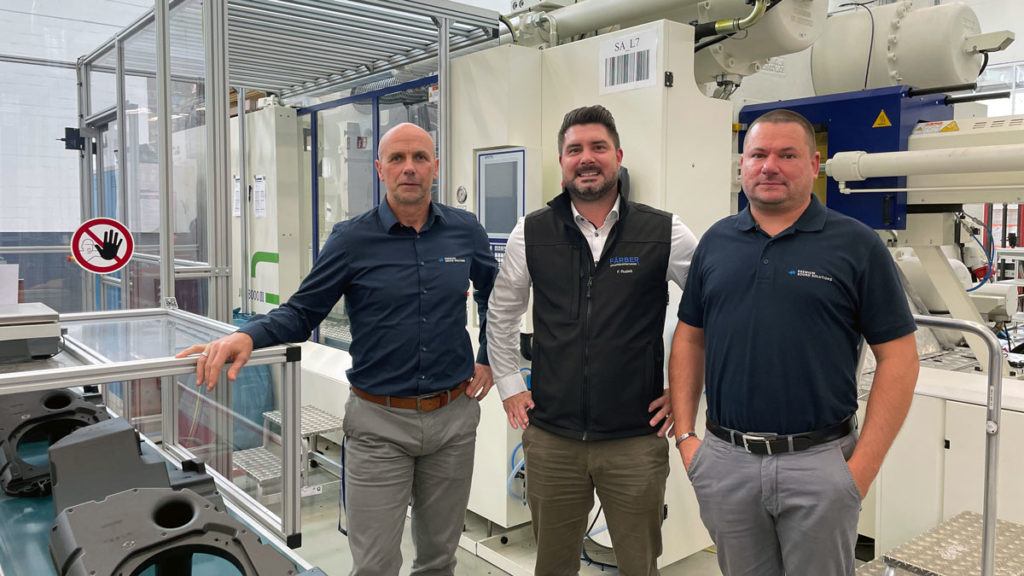 Premium Sound Solutions – the name says it all. The company develops and manufactures high-quality audio boxes, speaker systems and innovative sound solutions for ultimate entertainment and safety on the road. For efficient manufacturing solutions, PSS pursues its very own strategy to optimize its value chains around the globe: the vertical integration of its own injection molding machines based on the Haitian Jupiter series.
Premium Sound Solutions (PSS) is a global leader with extensive expertise in the research, development and manufacture of innovative sound products for the automotive industry and end consumers.
The company employs approximately 3,000 people worldwide in product development and state-of-the-art manufacturing. Every year, around 80 million loudspeaker systems leave the company's 7 locations worldwide, from Europe to North America and Asia.
The Esslingen site, with approx. 70 employees and sales of EUR 30 million, sets the pace in the future concert of PSS sites worldwide in the injection molding sector. While Belgium, Hungary, China, Malaysia and Mexico mainly manufacture loudspeakers, the focus in Germany is 100 percent on the automotive sector, specifically subwoofer boxes and pedestrian warning systems. These systems, which have been an integral part of the body design of e-mobility for some time, generate artificial driving sounds so that electric and hybrid vehicles can be perceived by pedestrians, cyclists and other road users in good time in road traffic.
For Pedestrian Warning Systems, PSS is a market leader in terms of unit sales, revenue and quality.
We chatted with Jens Maschkiwitz, Managing Director Germany and Team Leader Global Process Engineering at the PSS Group, and Ingo Fischer, mold and injection molding expert at PSS in Esslingen.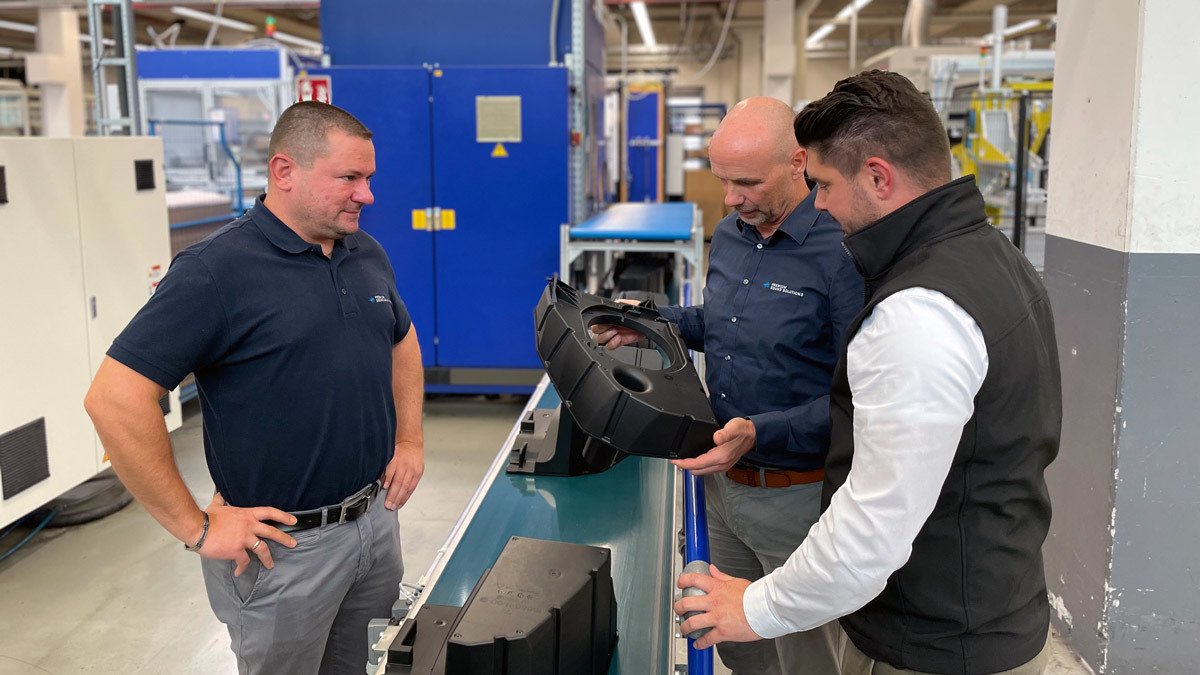 Felix Rudelt (right), sales representative at Haitian partner Färber-KT, inspects a sound system housing together with Jens Maschkiwitz (center) and Ingo Fischer (left) – straight off the production line of a Haitian Jupiter machine.
Mr. Maschkiwitz, Mr. Fischer, you have expanded the local production to include injection molding machines. How did this development come about?
Maschkiwitz: Our strength is our innovative power. We want to drive the market forward with innovations and consolidate our position through differentiation. In 2020, for example, we took on two new products in Esslingen, the subwoofer and the Pedestrian Warning System (PWS), sound systems in electric vehicles to better protect pedestrians. For these products, the vertical integration of injection molding machines simply made sense. Both products are now the focus of PSS in Esslingen.
And you run both products on Haitian machines.
Fischer: That's right. We had been involved with injection molding technology for quite some time, so we already knew Haitian. For the Pedestrian Warning System, we set up a fully automated assembly line and inject the parts in-house, as an in-line process, to completely manufacture the PWS. The second new production is the subwoofer for the Tesla (Model Y) from Brandenburg. Here, the process also starts with injection molding and then leads to complete final assembly.
Pedestrian Warning System – that sounds quite novel?
Fischer: Yes, that's right. We helped develop the products here in Esslingen and then also worked out the technical implementation. I dare say that we are already the market leader in terms of unit numbers and quality.
Maschkiwitz: Demand will certainly continue to rise, in line with the increase in the e-mobility trend. And quite independently of subsidies for e-cars from the government, we also see the electric trend developing strongly internationally. Even if the current situation is very uncertain, especially for e-mobility, because of the energy cost crisis. However, we see ourselves as relatively broad and well positioned, and we plan for the trend to continue to rise in the coming years.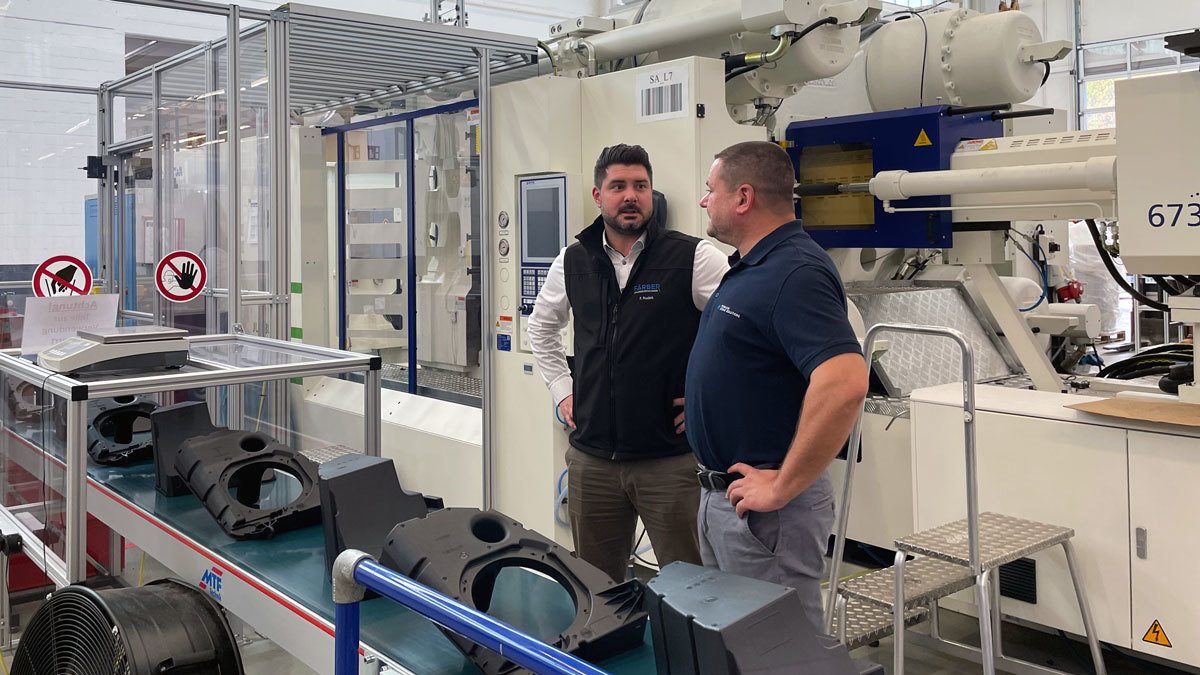 And that's where the choice fell on Haitian for injection molding machines. Why?
Maschkiwitz: Our goal is to consolidate the local site. The focus is on vertical integration and a "one-piece flow" with the goal of 100% automation.
We were convinced by a few key factors at Haitian. The global footprint, for example, the price-performance ratio, the availability worldwide, also the consistent specification. The machines are the same everywhere, and they have many languages in the HMI. A good sales and service contact. Mr. Fischer will have a more differentiated view of this, since he comes from an injection molding background.
Fischer: What I like about Haitian is their expertise. They have developed so many machines that the maturity level of the machines is already very high, also because a lot of feedback from the market flows in.
There is little to report on support, because the machines run smoothly. And operation is relatively simple. We received a short training course at the time, free of charge and good.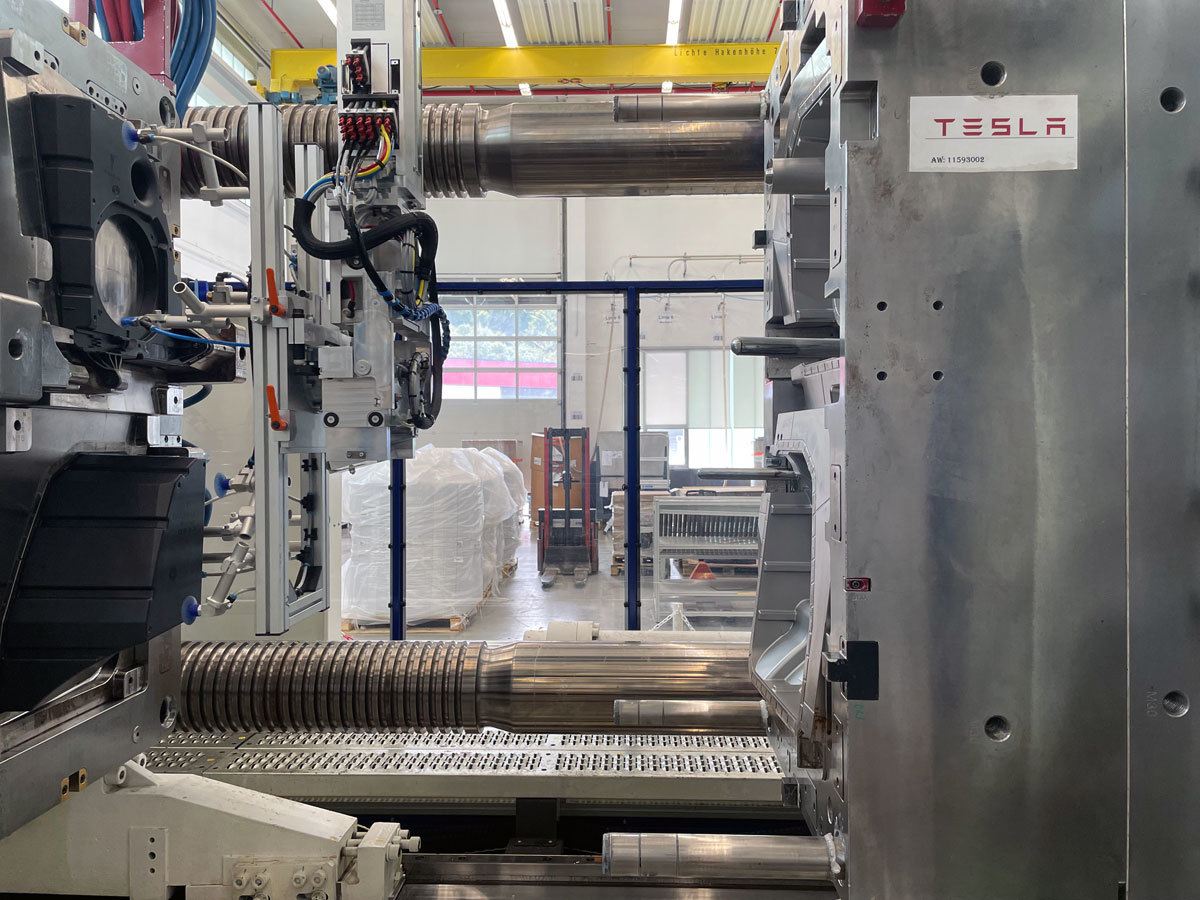 Subwoofer box for Tesla in 60-second cycle, with maximum shot weight at 0.35 kWh/kg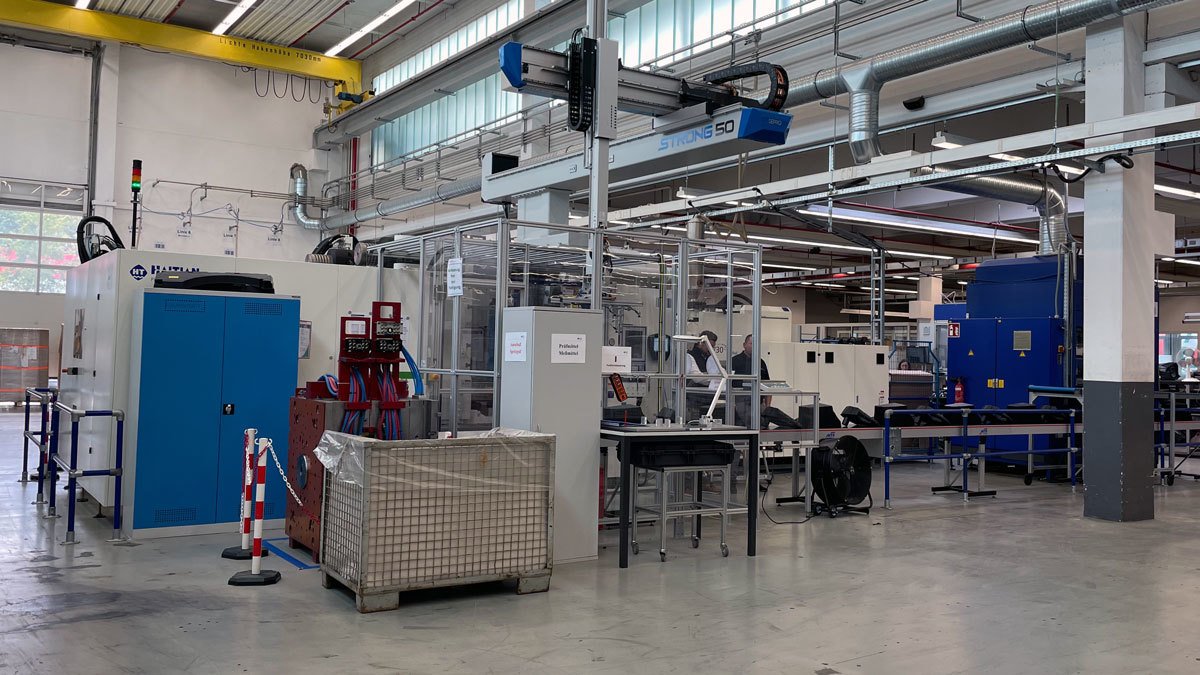 For the Pedestrian Warning System, the entire production line runs completely automated, except for material filling.
How are the production processes set up on the machines?
Fischer: Each machine runs a certain group of products, we then change the product daily. In terms of material, we mainly process PP with various additives, such as glass fiber.
We produce the subwoofer box for Tesla in a 60-second cycle, with maximum shot weight at 0.35 kWh/kg. For the Pedestrian Warning System, the entire production line runs completely automated, with the exception of material filling.
Maschkiwitz: We operate automation with "heart and mind". That means we try to achieve 100 % depth of added value. But with a sense of proportion.
And if I have understood you correctly, you will also transfer this concept to other sites?
Maschkiwitz: That is indeed our intention. We still see great potential in the penetration of our value chain. The vertical integration of injection molding machines is only logical. As Mr. Fischer has already said, technical products such as sound boxes simply lend themselves to this.
What dimensions are you planning?
Maschkiwitz: We operate around 80 production lines worldwide, but of course this will take some time; we in Esslingen are the spearhead of global process engineering at PSS. Ultimately, there will probably be around 50 injection molding machines in operation worldwide. However, it remains to be seen whether these will all be Haitian machines. We are still in the early stages, currently working here in Esslingen with two large Jupiter machines, the third has already been ordered. The fourth machine is planned for the end of 2023, which would mean that the site would be exhausted for the time being. But here, too, we appreciate the advantages of Haitian International's good global presence in the various markets, which is why we have currently classified Haitian as a "Preferred Supplier" – also due to its expertise and cost-effectiveness.
In the upcoming generation of machines, Haitian plans to integrate numerous "Smart Features" into its machines. What role does smart technology play at PSS?
Fischer: Audio boxes are basically relatively simple products, hardly any visible parts. The top priority is process stability. Our machines have to produce on a reliable basis, and they do.
Maschkiwitz: Sensibility is paramount, quite clearly. Our Haitian machines run stably, but we are of course curious about innovations, insofar as these are part of the standard scope of the machines.
How important is sustainability in the strategic planning of the PSS Group?
Maschkiwitz: All in all, sustainability starts with local production – local for local. This means that we also invest vertically in all locations in order to save logistics costs and not have to drive everything around the world. In this respect, we think along similar lines to Haitian International.
Fischer: Lightweight construction and saving resources are other topics. How do you manage to reduce large-volume sound boxes in terms of space and materials without compromising the sound? Of course, recyclability and the circular economy are also key topics. For example, how can alternatives be created for loudspeakers, which are often glued several times, in order to return the material to the cycle?
More information at www.premiumsoundsolutions.com