FRÖTEK Kunststofftechnik GmbH
2015-10-15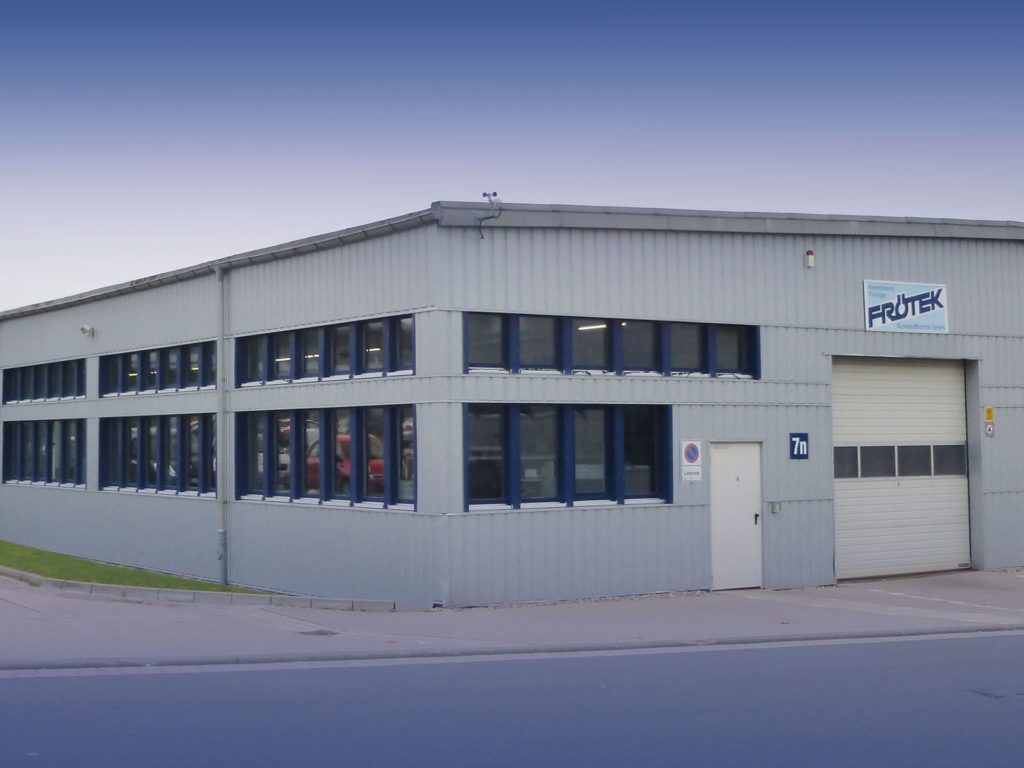 Haitian Mars Series: INFINITELY RELIABLE
FRÖTEK Kunststofftechnik GmbH is among the most innovative of mid-sized German enterprises. This globally active company generates with its 400 employees an annual turnover of around 50 million euros. Its main line of business is in accessory systems for industrial batteries while at the same time becoming a world market leader in battery cell connector technology. Its automated production is supported by four Mars machines.
The company was founded in 1985 by Dipl.-Ing. Bernhard Fröhlich and his wife Barbara in Bad Lauterberg, not far from what was later to be the parent plant in Osterode am Harz. Today they supply all the world's big battery manufacturers. What drives this steady growth is the development strength of the in-house research and development department coupled with a consistent investment policy, flexibility, and a strong international focus. Frötek maintains seven production workshops distributed over three continents. The total machine pool is comprised of more than 90 injection-molding machines with clamping forces of 10 to 400 tonnes plus numerous automated machines, developed in-house, for processing, assembly, and testing. "Quality is our top priority", says Frötek, "and we take strict care to live by this system." The company has been certified in accordance with ISO/TS 16949 since 2001. The core competencies of this developer and manufacturer, based in Lower Saxony, include injection molding of high-performance thermoplastics, multi-component injection moldings, and system developments for Moldflow, for example, in addition to resistance, ultrasound, and rotation welding. Further services include the creation of prototypes, construction of small systems and molds, and the assembly of component groups.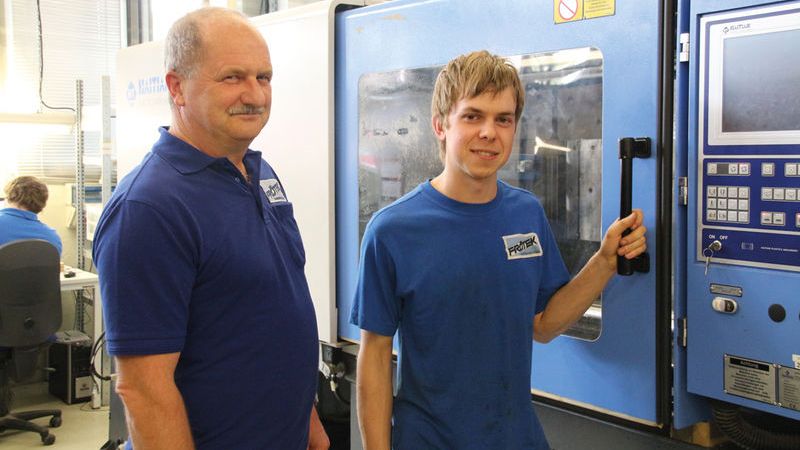 Gerd Schneider, Plant Manager in Großbreitenbach (left) and Danny Finn, responsible technician for both automation cells
Main supplier for the world market
Of the approximately 15 million connectors produced in the world each year, 12 million come from the Frötek subsidiary in Großbreitenbach, Thuringia. Currently, the plant has more than 19 injection-molding machines with clamping forces of from 30 to 250 tonnes. "We place special emphasis on quality and quantities", explains Plant Manager Gerd Schneider. "This is where we prepare the order and where the Production Department and a Quality Control Department are located. Purchasing and Logistics are controlled centrally in Osterode. This means that we don't get distracted and we are able to concentrate fully on our core tasks." Schneider renovated the plant in 1999 and built it up from the ground practically single-handedly. This year approx. 300 tonnes of plastic will be processed here for injection moldings. Around 16,000 km of copper cables are delivered all around the globe, even as far as China.
Since early 2012, four 2,500 kN Haitian Mars machines have been assisting with the production process in Großbreitenbach; all of them are first-generation, standard designs equipped only with universal packages. Since then they have been operating on a 3-shift system and each of them has its 15,000 machine hours "with negligible downtime", Machine Supervisor Danny Finn assures us.
Flawless back-ups for sophisticated production
Integrated in two identical production lines, the Mars machines produce different sizes of covers for motor-vehicle batteries. The process is fully automated. Both parts are removed with a time delay and placed in succession onto an automated production line. Here, flame-retardant materials are inserted and crimped in using ultrasound before both parts are welded with a laser. The process is accompanied by camera systems and numerous sensors. After final checks for leaks and quality, the parts are automatically packed.
In this manner, the two production lines produce approx. 3.6 million parts per year. "At the same time, there are hardly any rejects; we're well below one per cent," says Finn, with some pride. He is responsible for everything running so well. "From the very first, this unit has been my baby", he relates. "At first it was a real challenge. Even today, I still find it fascinating time and again how smoothly the process runs. After all, we start off here with three systems each with its own controls: the machine, the robot, and the automated machine. It makes it even better when we see from our measurements that we are well within tolerance limits in terms of dimensions and weight." Plant Manager Schneider is also pleased. "It took a lot of hard work before everything worked so smoothly", he remembers. "It's such a highly complicated system as well. For us, the injection-molding machines are purely supporting actors", he explains once again. "They simply have to do their job, which is to mold good plastic components. And that's what they do."
Tobias Vollrath, Vice President Finance and CFO of FRÖTEK Kunststofftechnik GmbH, has been happy to support the decision in favor of Haitian, and not only for cost reasons: "Our subsidiary in China has been operating various Haitian injection-molding machines for many years now.