NOWACK GmbH
2016-01-15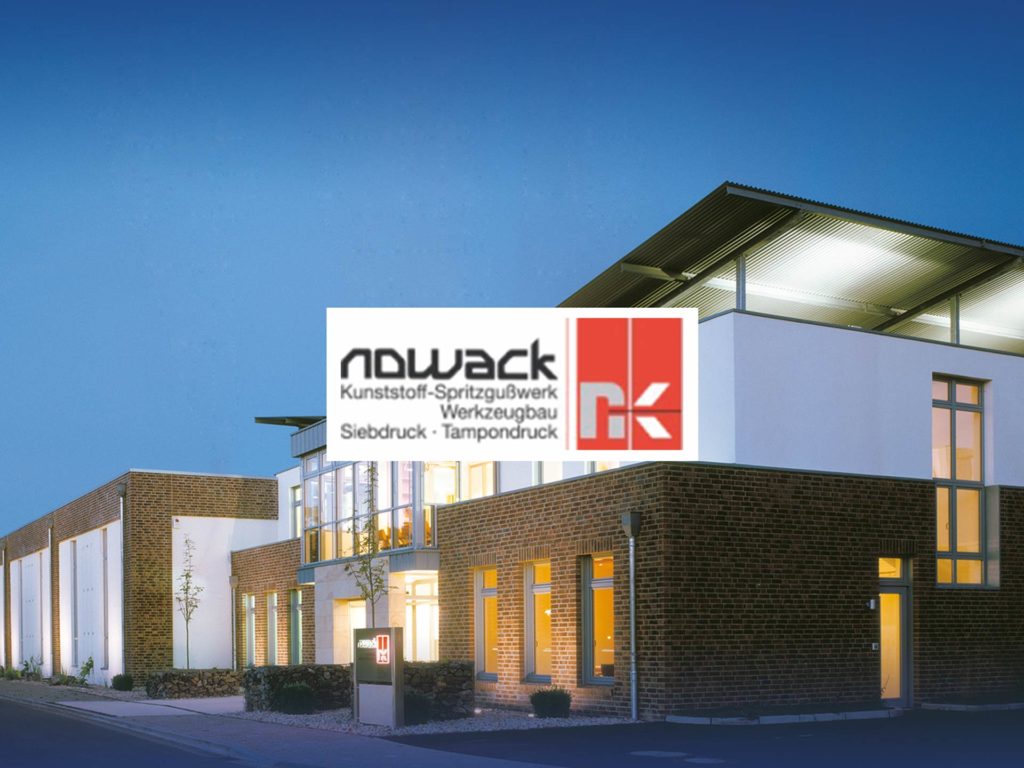 Zhafir Zeres Series: 70% LESS ENERGY CONSUMPTION WITH ZERES
The manufacture of technical plastic components has long been a tradition at NOWACK GmbH.
So too a keen eye for finding viable solutions and for making decisions that are sustainable. We spoke with Martin Nowack, one of the two Managing Directors.
The NOWACK family business has been intimately involved in the production of plastic articles since the 1950s and has continuously expanded its expertise in the field. As an ultramodern injection-molding plant, making its own molds and with its own screen-printing and pad-printing workshops, it has successfully specialized in technical plastic parts of high quality and precision.
or many years, German automobile manufacturers and their supplier industry have been included among NOWACK's long-standing clientele. This Lower Saxon firm is also listed with renowned companies in medical and hospital technology as a supplier of high-quality plastic components for dialysis machines and multifunctional ceiling lights in the surgical sector. Their complete portfolio also covers technical plastic parts for fastening technology, heating, sanitary and air-conditioning technology, the building and fitting industry, the furniture industry, mechanical engineering, and many other sectors. The lion's share of the production consists in technical parts such as expanding rivets for cars, fittings and locking systems for windows and doors, but also includes shipping crates for the wholesale foodstuff's trade.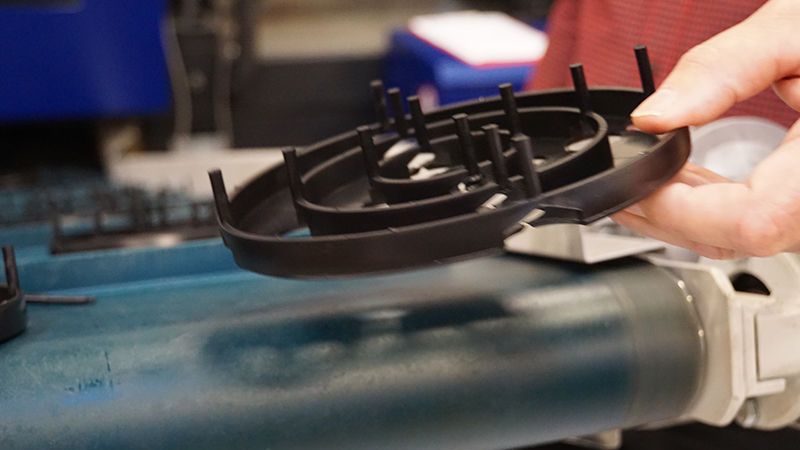 Technical car part on one of the two Zeres
Core business – standard applications
The plant runs five days a week operating in three shifts, with the management making sure to arrange extra shifts from time to time, e.g. for 800 Euro-pallets of technical plastic components for collection between Christmas and New Year. With 38 current injection-molding machines ranging from 22 to 700 tonnes, one a Mars II Series and two electric Zhafir Zeres models, they can handle injection weights of up to 2.4 kg and are thus able to produce more than 1,500 plastic parts of the most varied kinds. Production covers all standard materials (except PVC) such as e.g. PA with 50-60 % GF HDPE for cases. Bioplastics made of 100% cellulose have also already been processed – for chain links. They are open to everything; customized solutions are the order of the day. This means that annual consumption is regularly above the 600 tonne mark. Inserting and over-molding brass and steel bushings, magnets, bent wire springs, and small resistors is a matter of routine for NOWACK. In multi-component manufacturing, the parts are frequently produced manually. "With smaller quantities this is more efficient than with 2k molds, which of course are very expensive," Martin Nowack reassures us. For him, cost consciousness is crucial to success, and here he is thinking not only of the machine acquisition costs or their cost effectiveness. Energy costs are also an important consideration.
System-based sustainable energy savings
Like many other processors, they must limit themselves to a certain electricity quota per year, and this is something that they also want to do. If in one year they consume less than 1 million kW with normal voltage, a healthy reimbursement is in store on the price rate for electricity. "We have to stay within this quota and therefore we pay very close attention to the energy consumption of our machines and their peripherals. Energy consumption is measured regularly by an external auditor, because without verification we don't get any subsidies," Martin Nowack explains. In 2014 they amounted to around 12,000 euros. Measures for saving energy and for increasing energy efficiency have been at the top of the agenda for years. At the end of 2013 they introduced an energy management system and commissioned the Technische Überwachungsgemeinschaft TÜg [Technical Surveillance Organization] to handle the energy audit. This will not have been the last step that they take on the road to an improved energy balance.
Both Managing Directors see the acquisition of their two Zeres machines, with clamping forces of 400 and 600 kN, as being another sustainable solution in terms of energy. "Our measurements have shown that the energy savings of the Zeres machines compared with traditional hydraulic machines amount to as much as 70%", says Martin Nowack. "So the information given in the Zeres brochure is no empty advertising message. Our external energy expert couldn't believe it at first; he checked the numbers twice. These numbers confirm for us that we made the right machine decision. With the two Zeres alone, we save up to 3,000 euros annually on energy costs." The same applies to the Mars 1600 II with its energy-saving servo drive, where too the measurements making comparisons with hydraulic machines of other manufacturers give confirmation of clear advantages in efficiency in favor of the Mars technology. At all events, the Haitian brand enjoys great trust at Nowack, not least because of their long-term contact with Horst Tiedemann, sales partner of Haitian International Germany. That the machines originate in China is of no great importance to the Nowacks. "We buy trust" states Martin Nowack firmly and points out that, in tandem with their own mold-making, they have been working for some time now with certified mold-makers in China "with exactly the same trust and success. In their application centers, there is any number of Haitian and Zhafir machines, so we were very familiar with them."
"We buy trust"
Although at the beginning they had obtained their molds in Portugal and Eastern Europe, they now buy 80% of them in China, also because of the "unbeatable" price-performance ratio. He adds: "Now there are already many German mold-makers that have specialized in upgrading Chinese molds. This combination is perfect for us. We have a lot of repeat components in manufacturing, and we store all the mold data. All you do then is attach the mold to the appropriate machine and it should be up and running. It works seamlessly." In this way, for example, the Mars machine produces platings for the underside of balcony and decking tiles while the Zeres machines make fittings and car parts. "Both the Mars and the two Zeres have now been running for two years without any significant problems", says Martin Nowack, gently patting the top of a Zeres machine. "Furthermore, this one here is 12 seconds faster than its predecessor." Then, suddenly, he has to grin and searches for the right words. "It's no great secret either that many of our colleagues like to come and look at these machines," he says. Many have tried to put them off from purchasing them, claiming poor availability of parts or bad service but: "Service and replacement parts are a sensitive issue with almost all machine manufacturers. What surprised us with Haitian was the unbelievable speed of their troubleshooting and the customer-friendly costs of replacement parts and repairs. Practically nobody else can compete" agrees Horst Tiedemann with a nod. "And great emphasis is placed on flexibility. On occasion they have even taken the spontaneous decision to repair a competitor's machine at the same time. Very efficient and above all affordable."
Nowack GmbH Kunststoff-Spritzgusswerk
(Plastics Injection-Molding Facility)
Founded
1932
Employees
42
Annual turnover approx.
5 million euros
38 machines of 22 to 700 tonnes
One Mars II and two Zeres Series
Raw material consumption
600 tonnes per year
Since 1996, Nowack GmbH has been certified in accordance with DIN EN ISO 9001:2008 for the development, manufacture, and marketing of injection-molded plastic parts.