Monier Roofing Components
2015-10-16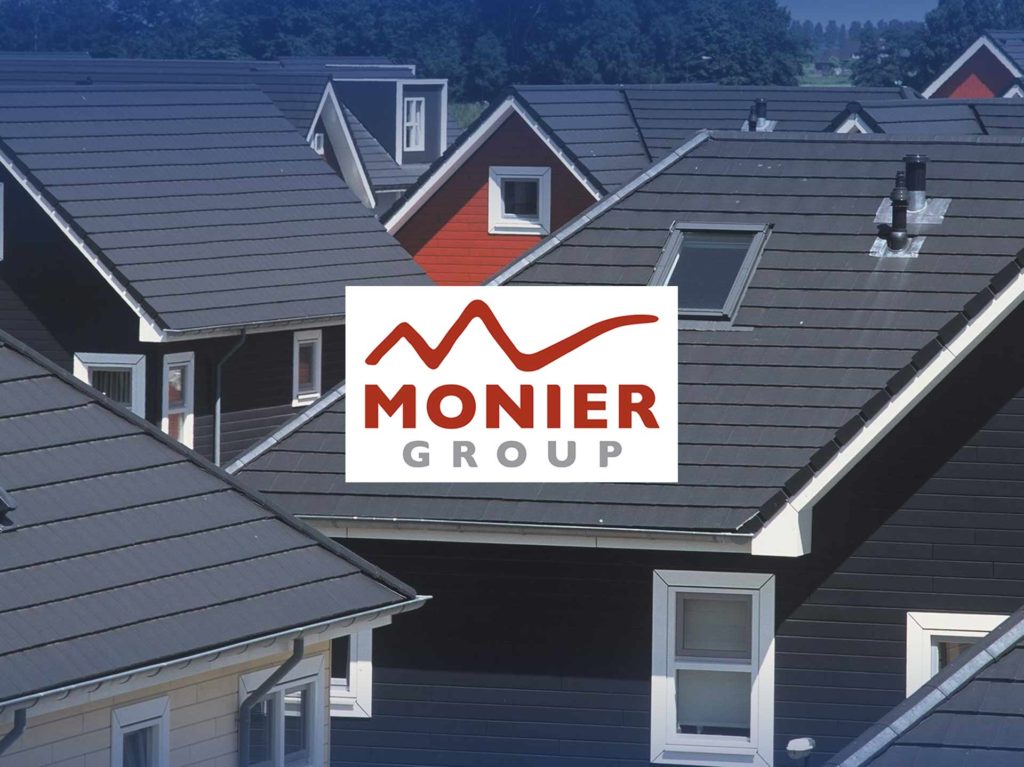 Haitian Mars Series: INTO THE FUTURE WITH HAITIAN
Monier Roofing Components is putting its faith in Haitian International as a long-term partner for the restructuring of its injection-molding plant at the Mittelheim site.
We spoke with Herbert Hartl, Plant Manager, and Maik Siefert, Injection-Molding Manager, about lean production, short routes, new machines, and joint visions.
The BRAAS MONIER BUILDING GROUP operates as a global manufacturer of high-quality products and systems components for constructing inclined roofs. This world market leader in roofing system parts offers its customers a broad range of products related to roofs and chimneys, together with energy systems for residential buildings. The German Monier Roofing Components GmbH (MRC), itself Europe's market leader in roofing system components, supplies the group with roof vents, skylights, gutters, underlays, ventilation systems, and other roofing accessories. The company can call on 45 years of experience in the plastics industry, has been certified according to DIN EN ISO 50001:2011; DIN EN ISO 9001  among others, and is established close to its customers in a total of six plants in Europe, Asia, and Africa.
MRC and Haitian are two companies that complement each other very well. The Mittelheim plant also possesses highly modern production equipment and solution-oriented experts, and it has made a name for itself through its pioneering spirit, reliability, and sustainable quality solutions. Around 300 patents and patent applications underline the team's drive for innovation. Its expert Molding Department team has received the BAKA Prize for Innovation, among other awards. Infrastructure for customer-oriented and process-optimized areas is also seen as an important building block for achieving high customer satisfaction. Dipl.-Ing. Herbert Hartl, Plant Manager in Mittelheim since 2012 and an acknowledged expert in lean production management, emphasizes efficient production processes and short routes within the production and assembly areas. The plant covers an area of 40,000 m² and has 92 employees. With 3-shift operation 5 days a week, and also on weekends, depending on the time of year and the demand, around 1,500 different products are manufactured here. Annual turnover stands at 17 million euros.
At the heart of the production are the 19 injection-molding machines, ranging in clamping forces from 2,500 up to 14,000 kN. Annually, approx. 2,500 tons of raw materials are processed: PVC, PP, PC and PC compounds, PPO, PA and PA compounds, both ASA and PMMA. For this, around 600 different molds are used, which as a rule are obtained from foreign and domestic partners. In addition to this, the plant MRC in Mittelheim keeps in readiness a thermoforming plant for small batches and makes prototypes using 3D printers. Further processing steps such as ultrasound welding, robot-assisted assembly and painting, plus comprehensive services ranging from R&D to mold manufacturing and maintenance, make the portfolio complete.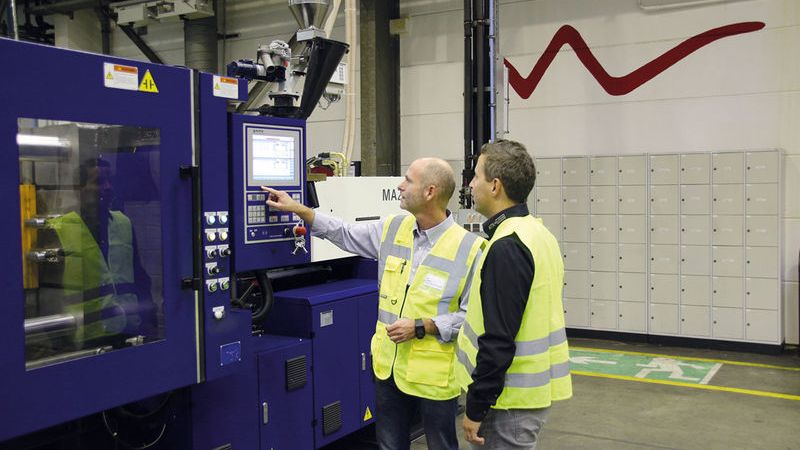 Maik Siefert, (left) Injection-molding Plant Manager, explores the details of the newly delivered MA2800
The initial contacts with Haitian machines were made several years ago when the team visited a few mold manufacturers in China. Even at that time, they came back with positive impressions from successful test applications. Finally, two years ago, contact assumed concrete form. In the course of the market testing for a strategic reorientation of the injection-molding plant, a suitable partner for the future was being sought. "We visited Haitian at the Fakuma show and immediately had the feeling that it could happen," remembers Maik Siefert, Team Leader for Injection Moldings. This is how the decision was made to put Haitian, with its Mars and Jupiter machines, on the short list. There followed a phase of intensive analysis and performance comparisons with various machine types and makes during which, in comparison with the European competition's machines, the Jupiter Series was a hit "in almost all areas, most particularly with an investment savings of almost 40 percent!" says Herbert Hartl emphatically.
Clearly on top in performance comparisons with European competitors
The requirements profile was sharply defined. "The focus was on flexibility, for example through the ease of exchange of cylinders because of the PVC and thermoplastics finish, then of course the high availability of the machines overall and rapid troubleshooting when needed," explains Maik Siefert, who is responsible for the smooth-running manufacturing. "We were looking for reliable workhorses for our products, which of course are all standard applications. The Jupiter seems to have been created for this." With an eye on the tasks ahead, Plant Manager Herbert Hartl brings up a few extra considerations: "Our most important goals were more production efficiency, energy savings, and reliability. The Jupiter has an extremely good price-performance ratio, with up to 30 percent energy savings in comparison to the current machines. And it has a compact design, also an issue currently."
If everything continues to run as planned, the restructuring of the whole of the manufacturing will be completed by 2017 and the injection-molding plant will be equipped with new machines. Up until now, a MAII2800 has been operating in the plant at Mittelheim; shortly before editing deadline, two JUII4500 machines were received in Ebermannsdorf. "We are very confident that we have found the right partner in Haitian International. If the new Jupiters stand the test, and basically no one here doubts that, nothing stands in the way of another order," says Herbert Hartl, and he adds: "In addition to the price, service is a very important criterion in our purchasing decision. To our knowledge, Haitian International is still the only Asian manufacturer that operates in Germany nationwide with a German-speaking service team. By the expansion of the Haitian production plant in Ebermannsdorf this appears to be guaranteed in the long term."