Magna Mirror Systems
2016-10-05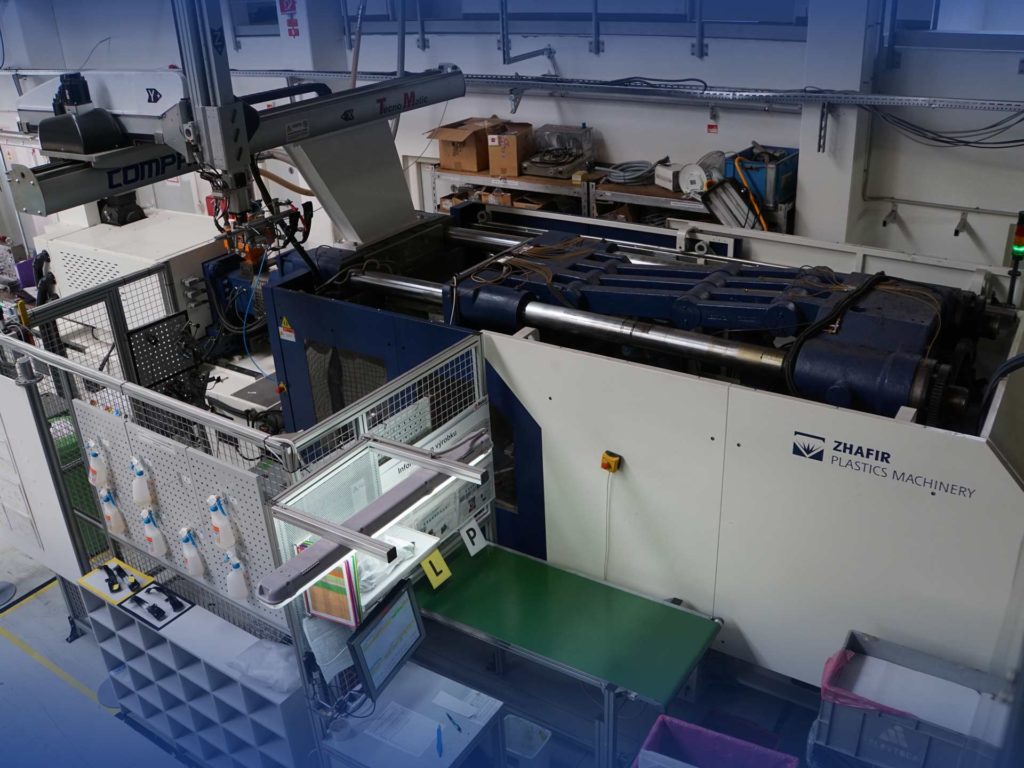 Zhafir Venus Series: "FLEXIBILITY IS A MUST"
The Magna Mirror Systems, founded in 1994, produces around 53 million exterior and interior mirror systems for the automotive industry and is one of the largest global suppliers.
The Group employs around 146,000 people and has 370 plants along with 27 engineering and sales offices around the world. We visited the factory Magna Slovetca in the heart of the growth regions of Eastern Europe and spoke with General Manager Ladislav Lutz Hrotko and Martin Maderic, Focus Factory Manager of Magna Mirrors.
Mr. Hrotko and Mr. Maderic, Slovakia is the largest market of automotive suppliers worldwide and it seems that the lack of skilled workers in the future could be a significant problem. How do you assess this?
Mr. Hrotko: "Not only for us as a supplier but also for the car manufacturers it is problematic. Everyone is vying for skilled workers, especially in the technical field. To an employer, to be attractive and to remain attractive, you have to develop their own solutions. The Magna Slovetca is an independent, autonomous company. Thus, our employees have the opportunity to grow. Project Managers, for example, have decision-making power and are not dependent on anyone else unlike other companies in the Slovakia area. The buyers work directly with the supplier. There is no one in between, which leaves room to grow.  And so does the location. It is growing steadily and healthy every year by 10 to 15%. This is realized by the employees which in turn creates trust and loyalty."
Why is the site of Slovakia so popular among automotive suppliers?
Mr. Hrotko: "It is relatively centrally located. Magna, for example, delivers to Britain as well as Russia, just to give you and idea.  From here, the transport routes are relatively short. As a result, this affects prices per part in addition to a stable high level quality with maximum flexibility."
Then flexibility plays an essential role for you?
Mr. Maderic: "You have to have flexibility, otherwise the OEMs would no longer be interested in you.  Yet it also depends on the nature of the products. We have a very clear market position with our mirror systems.  Here the production cycles are getting even shorter, but the tool geometries move within a product group. This allows us to configure flexibly designed facilities, which can be modified after the project without much effort for the next project.  Leaving further processing aside, one can say our mirror systems are more or less standard injection molding."
Mr. Hrotko: "Apart from that, Magna Slovetca delivers 18 OEMs and their 80 plants in Europe.  We deliver in almost every European country. This requires a lot of logistics and a well-organized production process. Flexibility is therefore our daily issue. "
What does your machinery look like?
Mr. Hrotko: "We run 23 injection molding machines between 200-750 tons. The main parts are the hydraulic machines. Our six Venus II machines machines are the first electric producing machines for Magna Mirrors. We manufacture its visible parts and engineering components."
Are there any special requirements for the machines needed to produce the mirror components?
Mr. Maderic: "No, nothing in particular. It's about precise injection, parallel function, solid extraction robots, hot runners… so nothing extraordinary. As I said, we do standard injection molding, but certainly on a high quality level."
Mr. Hrotko: "Production is running 24/7, with an average of six to ten tool changes per shift. But even that does not have special requirements because the magnetic plates for convenient tool changes also come as a standard option."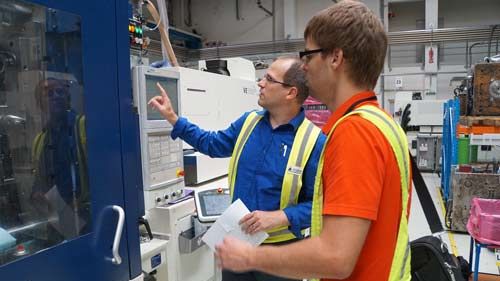 Martin Maderic praises the ease of use of the Venus machine. Here with Filip Miliza, the sales engineer at Mapro.
What were your reasons for choosing machines from Haitian International?
Mr. Hrotko: "The facts spoke for itself, the service and the entire package. At the time there were six to seven machines for discussion. All European manufacturers had been requested, and since there were no insights about Zhafir machines – but much talk on the market – we were curious. There are strict rules when it comes to supplier lists at Magna.  Zhafir was not on this list. Mapro finally told us to test a machine, so we could check the Venus through its paces. We left nothing to chance and made numerous tool tests and measurements concerning energy consumption and precision. We did testing on both, the Venus parallel to the hydraulic machine competition. Apart from the energy value – the Venus spent about 70 % less energy – the results were consistently at the same level, the price of Venus was but significantly less. I presented the results before management and we discussed persistently."
Mr. Maderic "Mr. Hrotko remained adamant and broke several lances for Venus II. With tangible facts such as energy values, noise level, no oil, availability of spare parts… it was complicated persuasion that was worth it in the end!"
Mr. Hrotko: "That's right, we have had no significant defaults since then. I had inquired with our sister plant in China, which has already been very pleased with Zhafir and Haitian machines. And thus we decided on Venus II. Last but not least it was also a reliable service.  Therefor Mapro is certainly an established partner in Slovakia.  Service is really one of the most important purchase decision factors and as for the team of Mapro, the cuts are above average. "
Haitian International is consistently following their product philosophy of "Technology to the point", while other manufacturers often praise their machines for special features or the many special options. What are your experiences and how do you evaluate Zhafir machines?
Mr. Maderic: "Zhafir machines correspond absolutely to our standard. The option list contains everything that we need. The controls are easy to use and comply with the latest standard of technology, in regards to the fact that the training period for four technicians is conceivably short. We are  satisfied that Venus II machines are completely integrated and constantly fully booked."